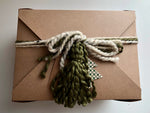 Corporate Christmas
Check out our new corporate package deals!  They are set at a lower price point to make it easier to gift to all employees/clients this Holiday season.  
We also have our custom solutions option which helps you fit the large or small parameters of your business' budget to create gifts that are sure to impress.  
You can also order 25+ of our regular pre-curated boxes and receive a 20% discount (They will be given Christmas packaging) **Discount automatically applied at checkout **Gift cards are not included in this promotion.  If you plan on ordering gift cards to add to your 25+ gift boxes please do not include them in this order, but rather email us directly.  Thank you.